Time for All about MEme Monday!
Go visit these ladies and participate!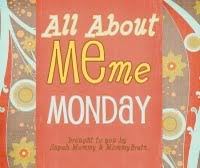 Turn the camera on yourself ... post
a self-portrait
...
a portrait of yourself created by yourself
or write
a thousand words*
about yourself
and use
Wordle
to create a word picture - so cool!
*give or take a few hundred
Your choice.
I'm using a self portrait taken a while back.
I took this in '06 right before I married Britt. I was lying in floor and the sun hit me as it was coming thru curtains.