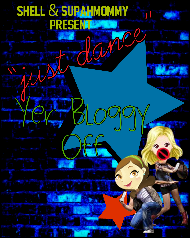 I am playing along with
Shell
and
Supahs
JUST DANCE
Your bloggy off!
I'm terrible and have no idea what a "good" score looks like so don't laugh at me.
YES I am in my pj's, as soon as I got home I put them on and started dancing.
I have always danced but you sure can't tell with this video!
Don't forget to vote for your fan favorite in the comment section at
Shell's
or
Supah's!