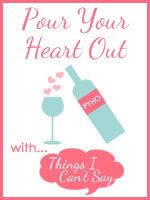 This is my first time participating with Shell in her Pour Your Heart out meme.
I'm usually pretty private about most things. But this has been weighing on my heart lately.
As Shell says:
just a brief reminder that everyone linking is pouring their hearts out and we should all be respectful in our comments. ;)
This is my niece Shelby. The pic was taken a few years ago. She's about 5 '3" and if she weighs 90 lbs I would be surprised. I have blogged about her many times pre-blogger so a few of my friends will know who I'm talking about.
Shelby age 9 or 10
She looks more like me than my kids ever thought of.
Shelby,Kelly,Jonathan
She's my brothers daughter and she has had to grow up fast. Shelby has always lived with my mom or her nanny (her moms mom) and has practically raised her sisters who are all younger than her. She will be 18 in May.
She's quiet, stubborn and beautiful.
Approximately a month ago we found out she was pregnant.
The "dad" (I use that term loosely) is not wanting anything to do with the baby. She is scared and won't hardly talk about the baby with us and my heart hurts for her so bad. Her baby is due 2 months after Drex gets here. They'll be 2nd cousins growing up together.
I just wanna take her in my arms and hold her tight and tell her everything will work out. It's hard enough being a teenager but being a single teenage mom-to-be is being pretty rough on her. We have all told her we are there for her but she seems to feel all alone...how do we get her to realize it's going to be ok. I know it's not going to be easy but it will be ok.
I love you my pickle!