We have a winner!! BITT OF RAW wins!! You have an email coming soon! Please respond within 48 hours.
If you have been around the blogging world for any amount of time I know you have heard of
Toothsoap
....but have you tried it?
I first heard about Toothsoap from
Supah
and I admit my first thoughts were I don't know about this toothSOAP business...that's how I kept seeing it in my mind with the word soap being in caps. I mean I could hear someones mama (never my mama cause I was a good kid...well except for that one time but we won't talk about that) telling them "I'm gonna clean your mouth out with SOAP!"
So I was not interested...... Then I won some.
The day it came in the mail I was determined to try it. I mean everyone said it was wonderful and it made you feel like you just left the dentist for a cleaning and it tasted good. I'm not gonna lie it did take me a time or two using it to get use to it. But you know what...it was good and it did make me feel like I had just left the dentist for a cleaning and it made my mouth feel better. I get up several times a night (pbfttt! to those who can sleep the night through!) and my mouth feels nasty. (don't smirk you know your mouth is nasty too after sleeping) Well with Toothsoap mine is not nasty feeling any more! I use the Toothsoap,brightener and swish and I feel cleaner...not just minty tasting like regular toothpaste makes you feel.
I for one LOVE Toothsoap and Karen who invented it (You can go
HERE
to see one reason I love Karen!) and I have won several bottles lately so I want to share with my readers! I have a bottle of spearmint Toothsoap to giveaway along with a bottle of brightener.
MANDATORY ENTRY
Visit
Toothsoap
and come back and tell me one thing you learned from the site.
Please leave a comment for every entry.
EXTRA ENTRIES
(1 entry each)
Follow Kssnnikkel with GFC
(2 entries each)
Tweet about this giveaway
You can use this tweet-
@Toothsoap #giveaway @kssnnikkel makes your teeth feel like you just left the dentist!
http://tinyurl.com/2vnug4e
(5 extra entries)
Blog about this giveaway and leave the link.
Winner will be drawn June 12th
ALSO!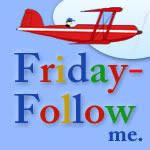 Did you know there is a new Friday Follow?
Click the pic to take you to the site and learn more.
Welcome to all that are from Friday Follow visiting me and I hope you'll enter the Toothsoap giveaway.
If you are from FF then you get an extra entry!