1.Drex and Chevy are the first set of 2nd cousins in our immediate family.
2. Drex isn't real fond of Chevy right now but I'm betting they will be partners in crime before too long.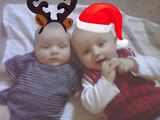 3. Christmas this year is exciting with 2 new babies in the family...next year will be FUN!
4. I have over 100 cousins. true story
5. When my grampa passed in 2002 there was 109 of us if I'm remembering right.
6. We have had quite a few born since then. I'm from a big HUGE family.
7. All of the 100+ cousins come from 6 kids that are my aunts,uncle and mom.
8. They include 1st,2nds,3rds a few 4ths and steps.
9. I have personally met most all of them.
10. Playing with Chevy and Drex today has inspired this TTT on cousins.... Chevy was born Oct 5 and Drex July 12...yep I'm betting partners in crime!