1
. It's Thursday so you know what that means...right?
SURVIVOR!
I love me some Survivor.
2
. I'm also playing Supah's Survivor...yall knew that too...right?
Have you visited the site?
You can just click the HEROES button!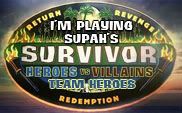 AND...cheer JT on to win because that's who I am...he's a cutie-patootie!
3
.A friend of mine and
Oka's
has jumped the fence to blogger I see....Welcome Brat!!
I hope you will like it here! I would send folks over to welcome you too BUT it seems like I can't even see your blog!! We have to fix that!
4.
My friend
Shell
had a Just Dance contest...I was #1 to broke to get the game and play along and #2
skeerd!
I also know now I can rent it for $2 so my #1 excuse was blown outta the water!
5.
In 13 days we find out if we are getting a boy or a girl!!!
Names so far-
I like those...you should have heard of some of the others. :I
If you'd like to know you can go here.....>
GRANDbaby
6.
The prednisone the doc gave me to help him make a diagnosis has wore off....blahhhh....
That stuffs bad for you but it sure helps the pain.
7.
I'm having an MRI on the 25th and that scares me...I am slightly claustrophobic.
8.
I'm thinking I'm not gonna make it to 13..... Where do all my thoughts fly away to when I get in front of the computer?
9.
Kelly is off getting a new car....Nikki got a new one a few weeks ago....guess what I want?
I love my cars gas mileage but it is so little. I like big vehicles!
10.
Did you know that if you don't go r e a l slow with a vacuum that it won't pick up? Yeah I didn't know that either til this little lady I clean for told me....uh huh....not happening. That thing will pick up good if I go slow or I go super fast like I want to!
11.
It is so so so much easier to clean when no one is home telling me how to do my job. Don't get me wrong there are some I love visiting with...like the one I had today...but others, not so much.
12.
Nikki and I had a late lunch today. We ate at 2pm so I grabbed Chinese takeout for the guys...WALA!
no cooking!
LOVE IT!
13.
ok....don't forget to check out Supah's Island and cheer for me!!
and JT!!!!
In case you missed the link click
There are some cute valentines we had to make for our first challenge and send to Harv Spitenstein...He is our Jeff Probst. (Is that how you spell his name?)
Hoping either mine or one of my island mates win so the HEROES get immunity this week!
OH!
Cracker Barrel sent me $25 gift card for the
burn incident
that happen in December.
$25....
I'm just sayin.